OPTIUS: Customer Relationship Management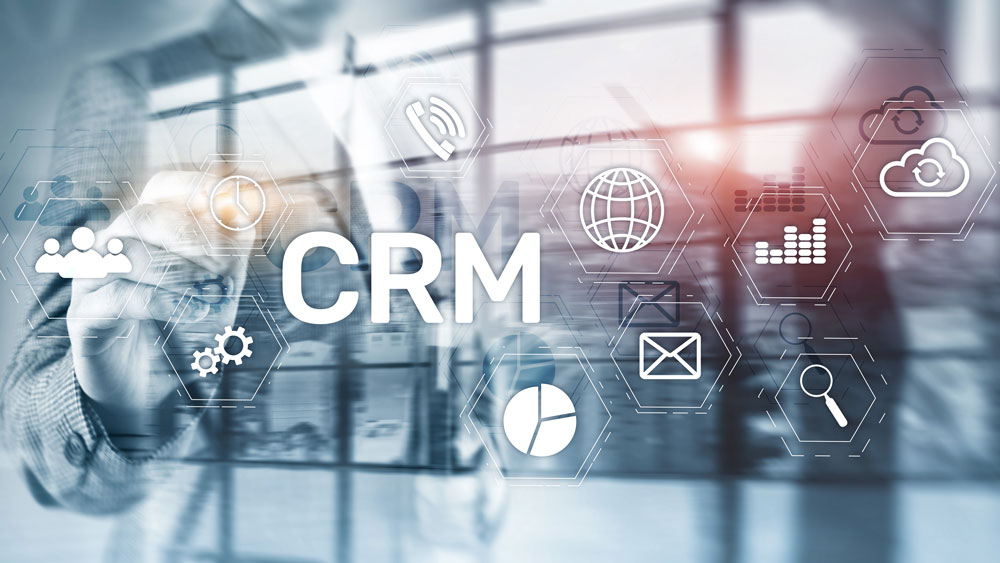 Create a customer experience that accelerates business and revenue growth
OPTIUS next generation OSS platform transforms your business with vendor agnostic integration for CRM.
Next Gen Customer Experience
The customer experience continues to be a key differentiator in the competitive telecommunications landscape.  As telecom services become more commoditized, the customer experience you provide will determine how satisfied and loyal your customers will be to your company.
The right Customer Relationship Management solution makes all the difference in managing the customer experience.  With a complete centralized view of all relevant information regarding the customer, your customer service representatives will be able to understand customer needs and anticipate their demands to deepen relationships and strengthen loyalty.
SaskTel International has partnered to provide you with a customer relationship solution that enables you to manage your relationship with your customers at every part of the customer lifecycle.
Partnered Solutions to Provide You the Best Solution
SI OSS/BSS solutions are helping CSPs digitally transform their business and have a platform that is future proof to manage the new fiber, legacy copper plant, and wireless networks.
Our partnered solutions bring together decades of experience. A wealth of industry experience and hands-on telecommunications operations experience underpins our solution, including lessons-learned from the design, deployment, and operations at SaskTel.
Beyond the world-class OSS/BSS applications and unmatched track record of successful projects that our partnerships provide, we know you will be impressed to have partnered with a trusted group of partners for years.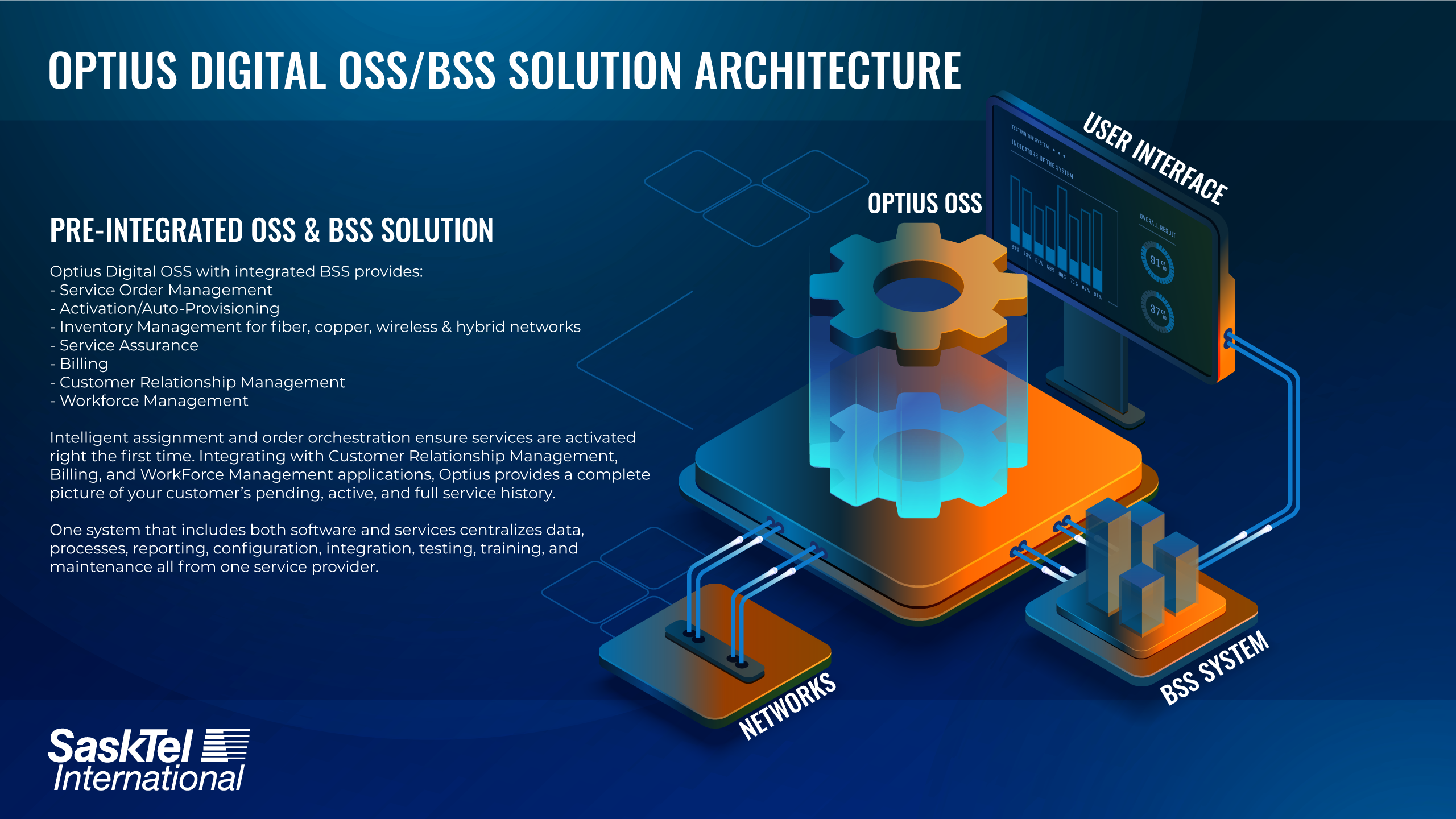 SOLUTION HIGHLIGHTS
Our software suite simplifies the complexities with OSS/BSS Transformation
INCREASE BUSINESS EFFECTIVENESS
Our CRM solutions provides your customer service team the power to personalize and maximize every customer interaction using a wide range of customer data to build long-lasing relationships.
Reduce manual processes that create significant organizational inefficiencies.
Centralized view on all relevant aspects of the subscriber.
INTEGRATED SYSTEMS FOR A CONSOLIDATED VIEW OF YOUR CUSTOMERS
Partnered Solutions
SI provides customized and standard solutions that will enable the offering of innovative products and services within a minimum time of deployment using real-time mediation, provisioning, automated activation, and rating features resulting in increased revenues, customer acquisition and retention. 
We have proven in production joint solutions designed to meet the unique needs of clients comprised of pre-integrated applications from SaskTel International and integrated to BSS service providers, providing an end to end BSS/OSS solution.
Strengthen your customer relationships
INCREASE REVENUE & PROFITABILITY
Identify patterns in customer purchases and improve ability to upsell and cross-sell.
Manage the entire customer lifecycle from the prospect stage all the way to the completion of their contracts.
ENHANCE CUSTOMER EXPERIENCE
Improve management of the customer relationship
Improve interactions with customers to lead to additional and faster sales
INCREASED SALES OPPORTUNITIES
Our CRM solutions provide insight into subscribed services for a customer and the services available based on network capabilities and location. Improve customer experience and increase sales opportunities by providing customer sales teams with knowledge to upsell your customers.
KEY SOLUTION FUNCTIONS

OPTIUS next generation OSS/BSS
Create an unsurpassed customer experience.
Centralized Customer View
Create a fully customizable single view of your customers based on your needs and business requirements.
The centralized view can show the subscriber's contact information, current package and services, discounts, payments and invoices, active business processes, and last activities performed on the account.
Customer Order Management
Manage the full customer order management lifecycle with a flexible system that can handle orders from the point of customer contact through to activation.
The system uses a workflow system that will enable you to tailor the order management process to meet your business needs.
Product Catalog
Create an unlimited combination of services into packages with the product catalog.  You can define, configure and deploy new packages and services for any type of customer.
Change Management
Change account packages on any day of the month with the actual change taking place at a later time.  You can switch subscribers to new packages or plans that will better meet their needs.  Your subscriber can choose their desired services and you can choose the change date. 
AFFORDABLE CUSTOMIZATIONS
As both an operating CSP and software developer we understand the uniqueness of each CSP's architecture and business. Our software is designed to allow for customizations uniquely designed for your competitive advantage.
EXPERIENCED INTEGRATION AND CONVERSION TEAM
Our clients receive an experienced team of BSS/OSS specialists implementing a modern platform that enables the creation of new value-added services which will help you gain more Average Revenue Per User (ARPU).
Modern ARCHITECTURE
As customer expectations, market direction, and technological innovation continue to transform the communications industry, SI places the utmost importance in continually evolving our product lines.  Our Optius platform can be provided as an onsite premise platform or as a SAAS solution.
INTEGRATED SOLUTIONS
Optius provides a unified, pre-integrated, and consolidated end-to-end solution for managing the local access copper network and the transport access network, including legacy and next gen technologies, and provisioning and activation of triple play services.
SI has developed OSS solutions for over 30 years. The Optius Suite is a modernized platform commercially launched which was launched in 2015 with successful implementations across North America.
Why SI is your trusted Partner

Personalized Partnerships
Chosen by clients to provide software and professional services solutions to digitally transform their businesses, our solutions are proven to be scalable and customizable to suit the needs of each of our unique clients. We understand the complexities of operating a forward-thinking CSP and have the first-hand experience to help you transform your business operations. SaskTel International is a trusted partner with real-world CSP expertise.

Leading with Customer Service
Clients are at the heart of everything we do. Our solutions are proven and tested by our parent company SaskTel, before they ever reach you. Annual customer satisfaction surveys are conducted and results are actioned within our teams so that we are able to continually improve the level of service and support we offer to our most valuable assets – our customers. Our 2020/21 achievement of an overall satisfaction rating of 96% demonstrates our commitment to satisfaction and provides the valuable feedback required to further develop and grow.

+35 YEARS AS A TRUSTED SOLUTION PROVIDER
SaskTel International was established in 1986 as a subsidiary of SaskTel, a multi-service communications provider with over a century of successful operating experience. SI leverages the expertise, industry firsts, lessons-learned, and resources of an industry-leading service provider and delivers this value on a global scale.

+110 YEARS IN TELECOMMUNICATIONS
Our parent company, SaskTel, is a century-old operating provider with multiple industry firsts. SaskTel owns and operates Saskatchewan's largest network that connects 99% of the population over a vast area of 651,900 square kilometres. Recognized as a global leader in telecommunications, SaskTel has completed many large-scale and innovative projects over its many decades in business.