OPTIUS DIGITAL OSS/BSS Portfolio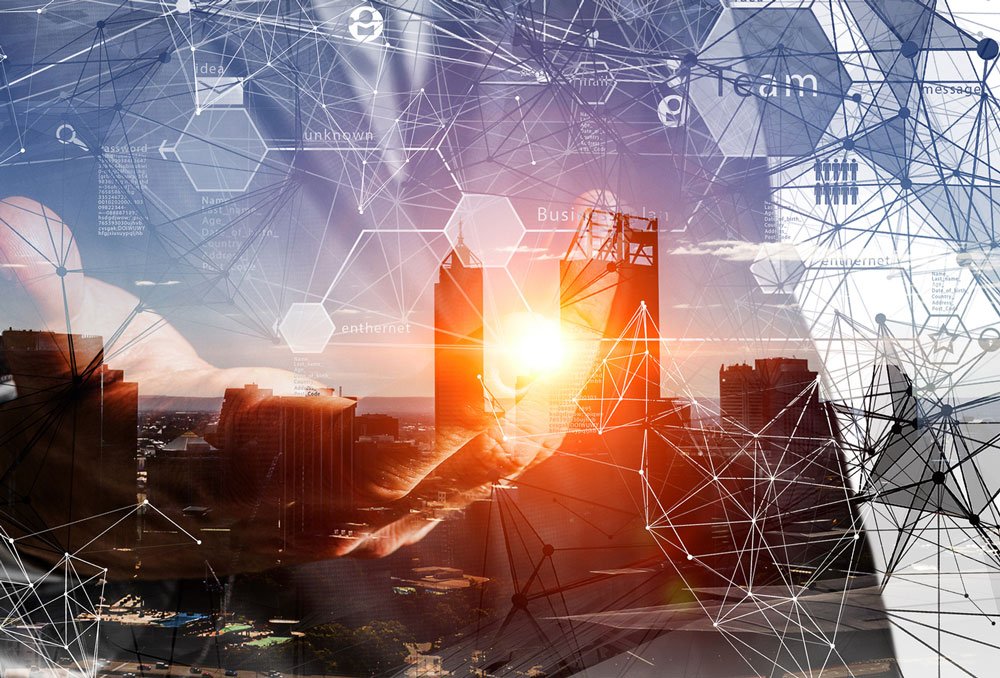 INTEGRATED DIGITAL TRANSFORMATION SOFTWARE & SERVICES SUITE FOR CSP

S
SaskTel International is simplifying the complexities with Digital Transformation as an experienced CSP and software solution provider.
OPTIUS Digital OSS & BSS SOlution
Optius Digital OSS provides pre-integrated modules for Service Order, Service/Resource Activation, Provisioning, and Inventory Management for fiber, copper, wireless and hybrid networks.
Its intelligent assignment and order orchestration ensure services are activated right the first time. Optius is a modern solution designed and engineered by a leading-edge CSP with real-world operational experience. It provides one consolidated system that includes both software and services; centralizing data, processes, reporting, configuration, integration, testing, training, and maintenance all from one service provider.
Optius integrates with Customer Relationship Management (CRM), Billing, and WorkForce Management (WFM) systems. Optius provides a consolidated solution to digitally transform your business, whether we provide you with partnered solutions for BSS, or we integrate with your current BSS systems.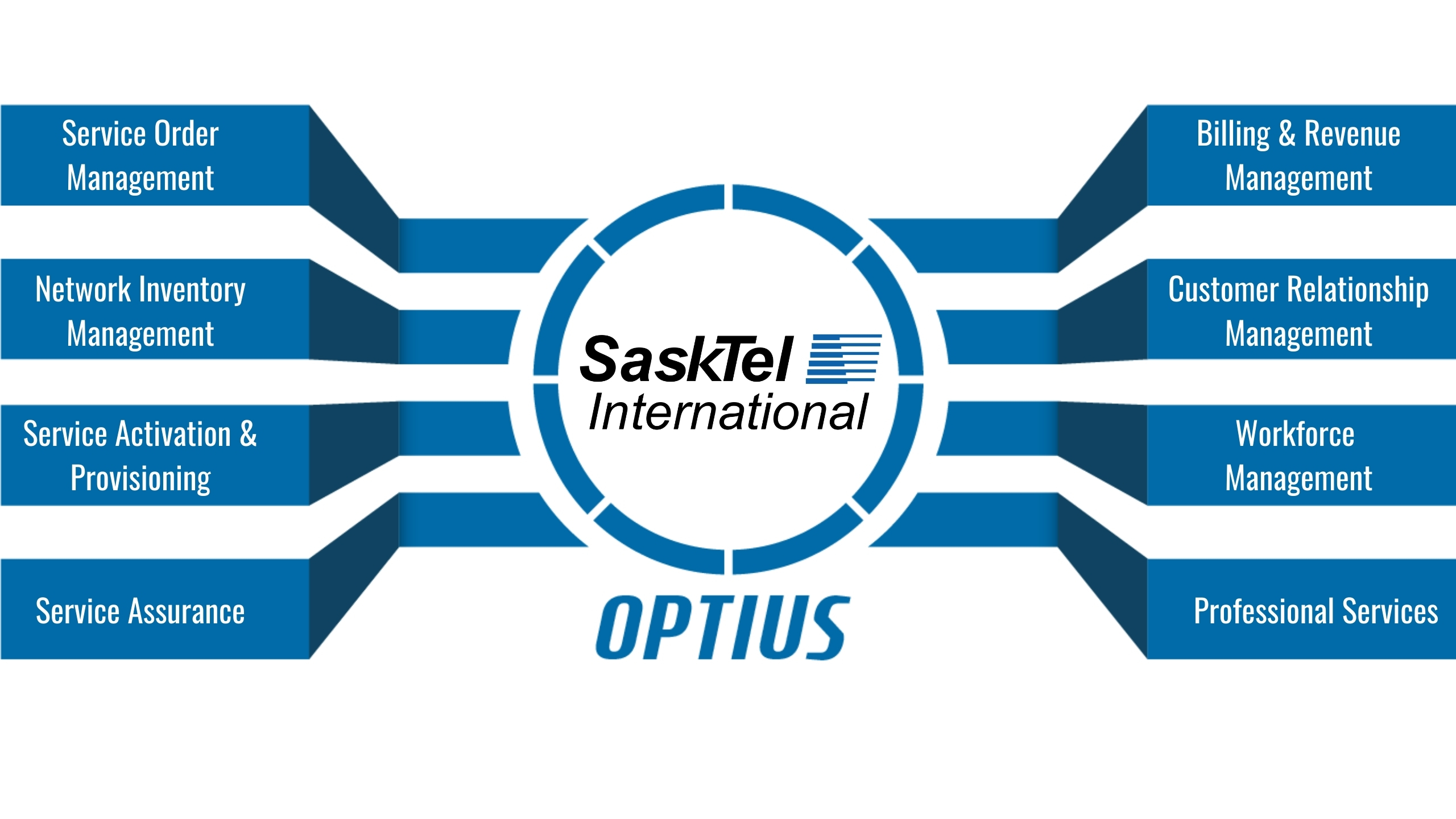 AUTOMATE SERVICE ORDERS WITH ZERO TOUCH PROVISIONING
ACCURATE NETWORK MANAGEMENT
Accurate inventory management is the base for automation. Accurate inventory also enables for service launches, informed decision-making, network forecasting, and high quality customer service trouble resolution.
Optius reduces the manual effort required to run legacy business support systems (BSS) and operational support systems (OSS). Maintaining and increasing profit margins is accomplished through delivering a great customer experience throughout the complete customer journey.
ENHANCE CUSTOMER EXPERIENCE WITH REAL-TIME SERVICE ACTIVATION
Orchestrate services with real-time service activation. Optius automates complex processes that historically have been completed manually through legacy business support systems (BSS) and operational support systems (OSS). Your business processes become automated with flow-through provisioning of service orders.
Improve market launches and increase profit margins by delivering a great customer experience throughout the complete customer journey.
Optius is a proven powerful system to support flow-through provisioning.
Customer experiences are enhanced through the quick and accurate delivery of services.
MODERN ARCHITECTURE
The Optius product infrastructure is a sustainable software platform built on the latest technology, ensuring durability for many years to come. The robust platform combined with the open architecture technology facilitates local independent customizations, extensions, and integrations.
Proven interoperability with many network and external vendors, enabling CSPs a selection of the best-in-class applications to accommodate their operational and commercial needs.
Customization and Scalability.
Flexibility to customize for your requirements in a short time frame.
Scalable and expandable architecture with proven production experience supports real-time distributed processing, achieving performance, scalability, and high availability.
MODERN WEB-BASED APPLICATIONS
Optius provides a user-friendly and intuitive Graphical User Interface (GUI) ensuring employees quickly learn and adapt to the new system, reducing stress and improving productivity.
DIGITALLY TRANSFORM YOUR BUSINESS
PROTECT AND CREATE NEW REVENUE STREAMS:
Extend the capability of your existing copper plant through emerging technologies, including vectoring/G.fast.
SI has proven we can deliver new capabilities and adapt to new technologies in a timely and cost-effective manner.
OPEN ARCHITECTURE
Built with an open architecture, Optius easily integrates with all systems needed to manage your network and services.
SI software solutions integrate with the current systems you have and need to manage your network and services.
The Optius product suite is customizable and will accommodate variations within your network and service offerings to help empower your competitive advantage.
LEVERAGE OUR TELECOM OPERTIONAL KNOWLEDGE
The unique relationship between SI and SaskTel allows our clients to leverage our expertise and experience as an operating CSP in the ongoing evolution of our software suite. 
Access SI's parent CSP company, SaskTel, a billion dollar operating CSP able to provide wireless, wireline, and ICT knowledge, consultants, and resources. 
Leverage over 30 years of fiber expertise – fiber design, deployment, marketing, and operational experience. 
Follow a shared architecture with SaskTel and learn from each other's experience.
OPEN ARCHITECTURE
OPTIMIZE YOUR BUSINESS
BSS/OSS INTEGRATION EXPERIENCE
A history of  broad experience includes software development and systems integration with many network elements for service activation and provisioning.
Experienced in multiple business models including Wireline, Mobile, VoIP, ISP, and Cable. 
Experienced in Tier 1 to Tier 4 CSP deployments with long term client references.
MULTIDISCIPLINARY TEAM WITH PROVEN EXPERIENCE 
SI has a strong core of technical, operational, and management expertise with the ability to project manage and implement complex software solutions.
MODERN ARCHITECTURE
Modern Platform to Scale for the Future. 
A modular platform technology with an open architecture that facilitates local, independent customizations, extensions, and integrations.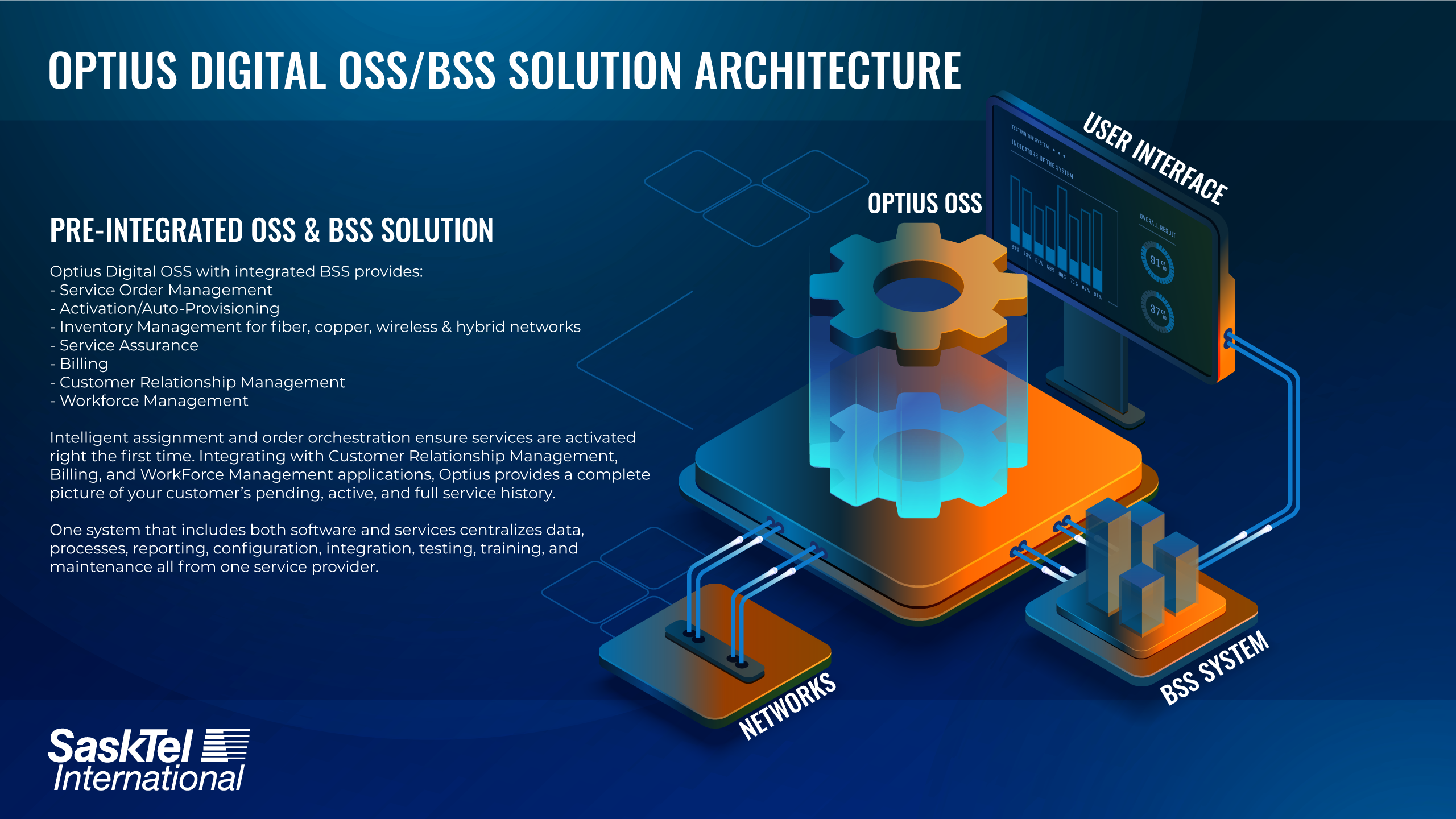 OPTIUS OSS & BSS Software SOLUTIONS
Our Optius platform consists of a modular suite of applications designed to provide you with integrated OSS & BSS applciations.

Service Order Management
Intelligent Service Order & Network Management
SI's Service Order Management enables CSPs to automatically orchestrate the fulfillment of customer requests. This service is designed to analyze available network resources and determine the most effective delivery method to provide the requested service to a customer. 
The system ensures your network is being used to its fullest capabilities, increasing capacity to serve more customers on your existing infrastructure. Maximizing the use of existing infrastructure will increase the return on your network investments.
Network Inventory Management
SI's Network Inventory (Services and Resources) & Assignment solution provides full network visibility to understand the effects of customer service activities in real-time.
Network Inventory and Assignment provides visibility of physical resources, cables, data center services, IP addresses, telephone numbers, and more.
Service/Resource Activation
Highly scalable service and resource activation solution that is capable of multi-service needs of all classes of mobile and fixed service providers – allowing you to quickly give your customers what they want and accelerate revenue.
In a world where customer experience means everything to the competitiveness of a service provider, real-time activation and auto provisioning are necessary to stay competitive. 
Zero touch activation enables services to be automatically activated over any type of network, including copper, fibre, fixed wireless, cable, and mobile.
Service Assurance
Proactively manage trouble tickets, incident management, problem management, change management, and testing of copper plant. Assure customer's service repairs are tracked and managed effectively. Designed to support ITIL best practices.
Billing
SaskTel International has partnered to provide you with the best fully convergent, end-to-end billing solutions. We have multiple partners to ensure you are able to choose the solution that is the best fit for your business.
Customer Relationship Management
SaskTel International has partnered to provide you with a customer relationship solution that enables you to manage your relationship with your customers at every part of the customer lifecycle.
With a complete centralized view of all relevant information regarding the customer, your customer service representatives will be able to understand customer needs and anticipate their demands to deepen relationships and strengthen loyalty.
Workforce Management
Empower your workforce installing and repairing both copper and fiber services and outside plant. Better manage operational resources to optimize capacity and enable technicians with better information. Plus, leverage SaskTel's operational experience with WFM systems.  
Optius Software Services
With a strong history of software development and support, our best asset is our people. SI's team is comprised of individuals with deep IT experience, obtained through decades of real-world implementations. This experience positions the SI team to successfully manage and implement complex IT projects that are transformational in nature, turning a business's IT platform into critical business tools that reduce risk and maximize opportunity.
DIGITAL TRANSFORMATION CONSULTING
SaskTel International makes managing your network easier by providing industry-proven solutions that enable optimized flow-through provisioning of services. SaskTel International can help you operate more efficiently by automating business processes and giving you visibility into accurate network inventory. Doing so will allow you to decrease operating complexity, reduce costs, and improve your customer experience.
APPLICATION MANAGEMENT SERVICES
SI's application maintenance service (AMS) helps clients improve the management of their information systems through a combination of application support and enhancement services. SI works closely with its clients to maximize IT investments, reducing costs related to application failures (break/fix) and increasing funds available for software enhancements.