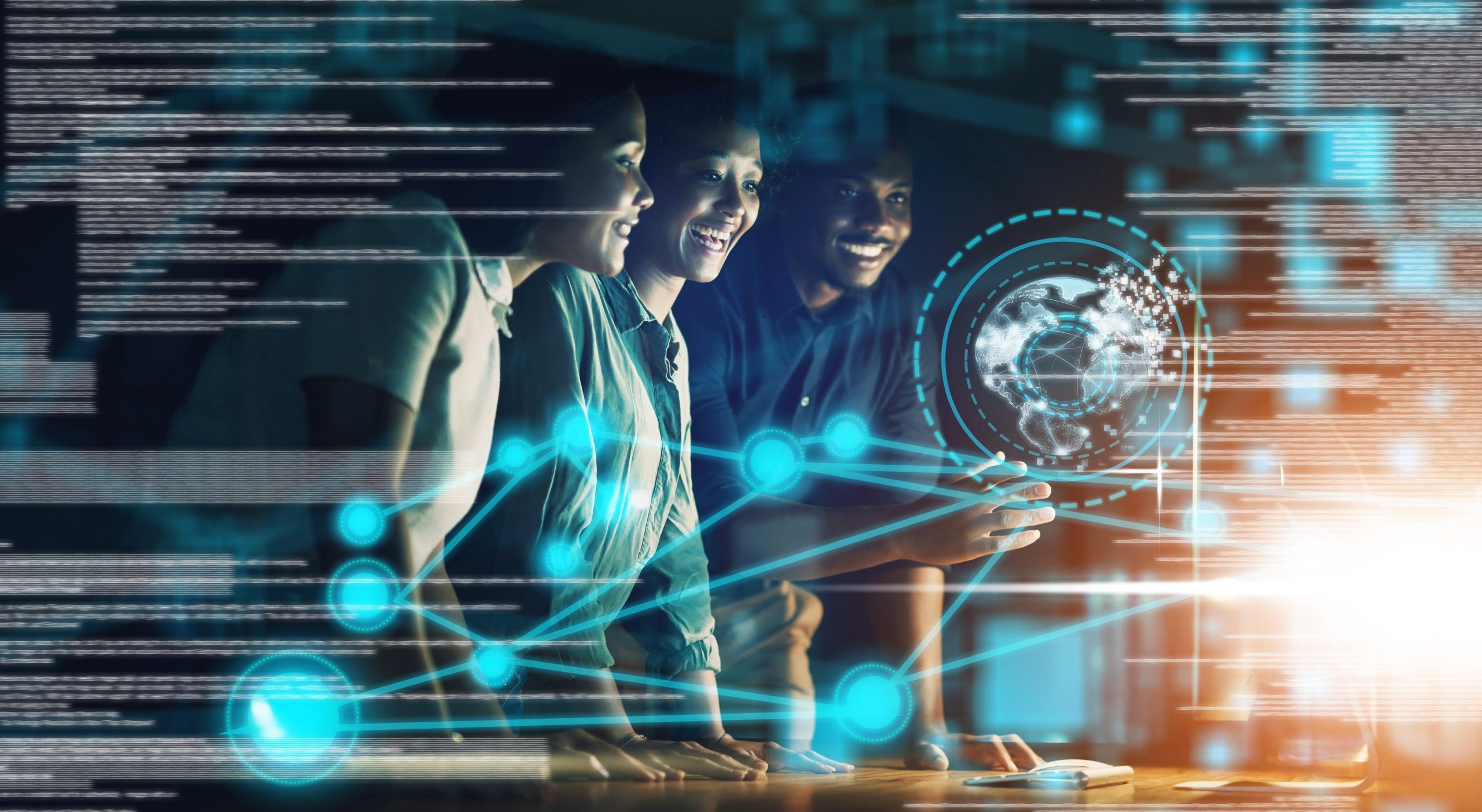 Telecoms must be agile in a competitive market, responding quickly to evolving technology and changes in customer preferences. Fortunately, one notable industry change impacting telecoms is the speed at which evolution occurs and the eagerness of customers to adopt new technology. In the past, legacy OSS systems were repurposed through patches and work-arounds. Today, modern business environments simply cannot evolve with legacy OSS environments slowing them down. 
In an on-demand world, automation is necessary for telecoms to remain competitive. Three significant components of a telecom's successful adoption of digital transformation are:
Digital Ecosystem

Digital Infrastructure

Human Capital (harnessing brilliant minds)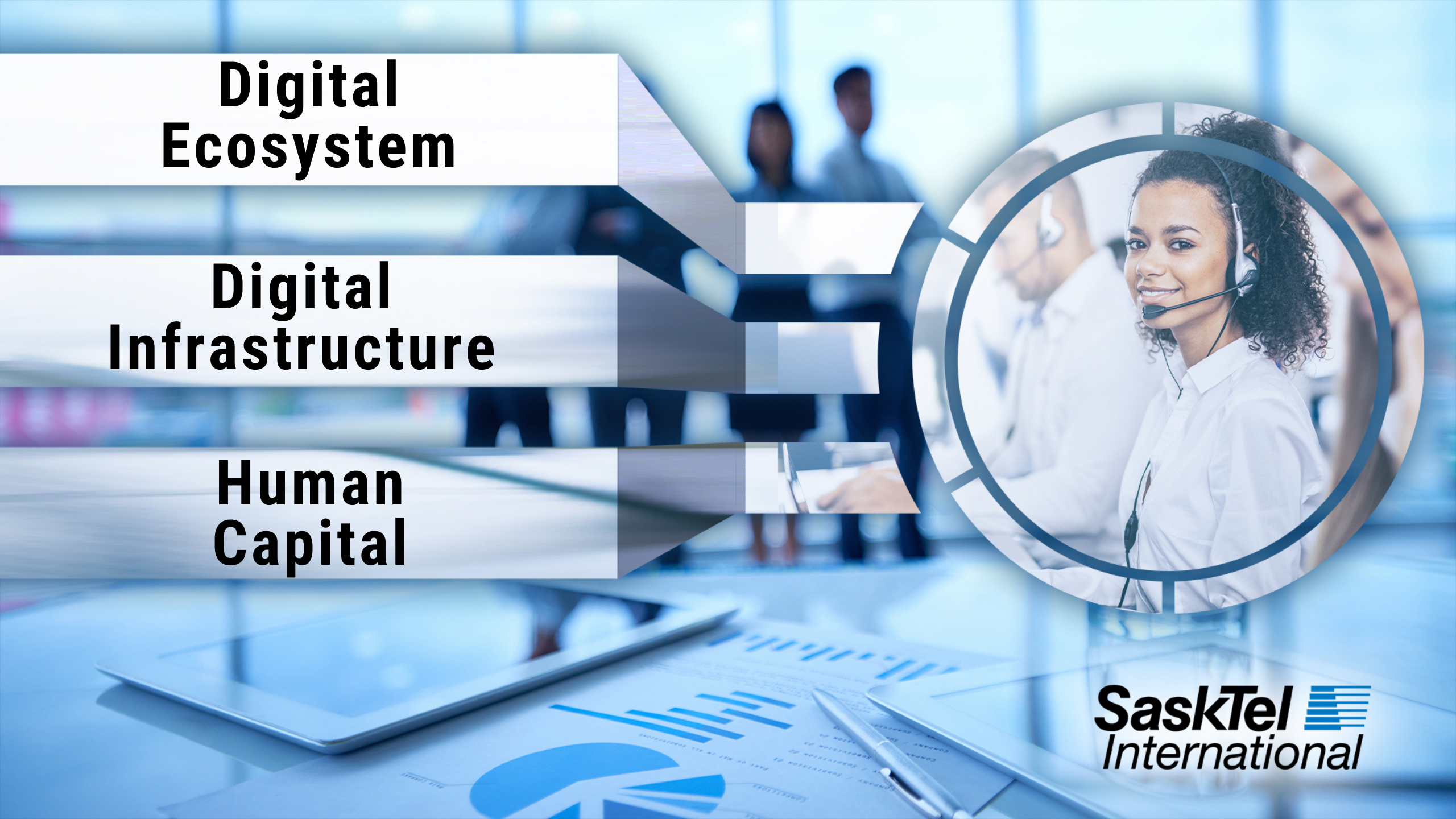 DIGITAL ECOSYSTEM
A digital ecosystem is a group of interconnected IT resources that can function as a unit. It is comprised of suppliers, customers, trading partners, applications, third-party data service providers, and all other respective technologies. Telecoms and CSPs are able to control new and old technologies, build automated processes around them, and see consistent business growth when their B2B practices, enterprise applications, and data within the ecosystem are integrated. Improving customer satisfaction and consistently meeting SLA commitments are just some of the benefits of having a digital ecosystem established that improves performance, allowing it to focus on facilitating business value rather than handling frustrations linked to outdated, legacy B2B services.
SaskTel International has been a prominent advisor to service providers in the Caribbean and around the world for the last three decades. When SI is engaged with partners, we naturally become part of the digital ecosystem as a trade partner, adding strength and experience to the digital ecosystem.
DIGITAL INFRASTRUCTURE
The telecom networks of today and the future are becoming increasingly complex. Gone are the days of a homogenous network that leverages a single vendor or set of systems end-to-end. Customers are increasingly demanding access to anything, anytime, anywhere. Telecom operators often need to leverage traditional on-site solution elements, virtual components, and increasingly, cloud-based services to meet customer demands.
This presents a challenge for telecom operators as we need to bring these heterogeneous systems together to create a cohesive digital infrastructure. Doing so requires a robust set of tools that can seamlessly orchestrate and provision services, taking chaos out of the complexity, to build adaptable, "programmable" solutions that can meet the demands of customers both now and in the future.
As an operating telecom, we have assisted telecoms with realizing hard benefits with a modern OSS platform – digital infrastructure – to orchestrate provisioning of complex services in both wireline and wireless networks. An integrated BSS/OSS digital infrastructure empowers consolidated management of your service delivery in real time with high accuracy. Additionally, we are seeing proven use cases of deploying hybrid infrastructure leveraging cloud, SAAS, hosted, and on-site infrastructure models. 
As a result, telecoms are empowered with both network and billing accuracy, reducing truck rolls, increasing revenue accuracy/assurance, and further enabling self-serve models to increase customer satisfaction and increased revenue through new services such as burstable internet services. 
HUMAN CAPITAL
Automation through a telecom's digital transformation increases efficiencies, freeing-up valuable resources which allows your employees to be redeployed to higher value projects and tasks. While automation handles mundane, repetitive, low-value tasks, employees are able to focus their energies on growth and development. Skilled and experienced personnel within an organization are more likely to perform at high levels, report higher employee satisfaction, and demonstrate higher levels of company loyalty, leading to more effective succession planning. The current generation of the workforce – mid-career workers and those in their twenties and thirties – have a strong appetite for retraining, strengthened by the hardship and uncertainty caused by the Covid-19 pandemic. They are eager to re-skill in order to obtain security and higher remuneration in tech roles that are likely to provide the backbone of the future economy.
In 2014, SaskTel International formed a strong partnership with a Caribbean-based telecom and worked diligently on the launch of a new network and mobile communications company. Throughout the project, SaskTel International had the privilege to work with and mentor local resources. From the beginning, the end goal was to have the local people as the foundation for this new company. SaskTel International played a key role in building this foundation by working side-by-side and providing "over the shoulder" training to local resources, the future of the company. Now, some of those employees are in leadership roles within the company as lead engineers.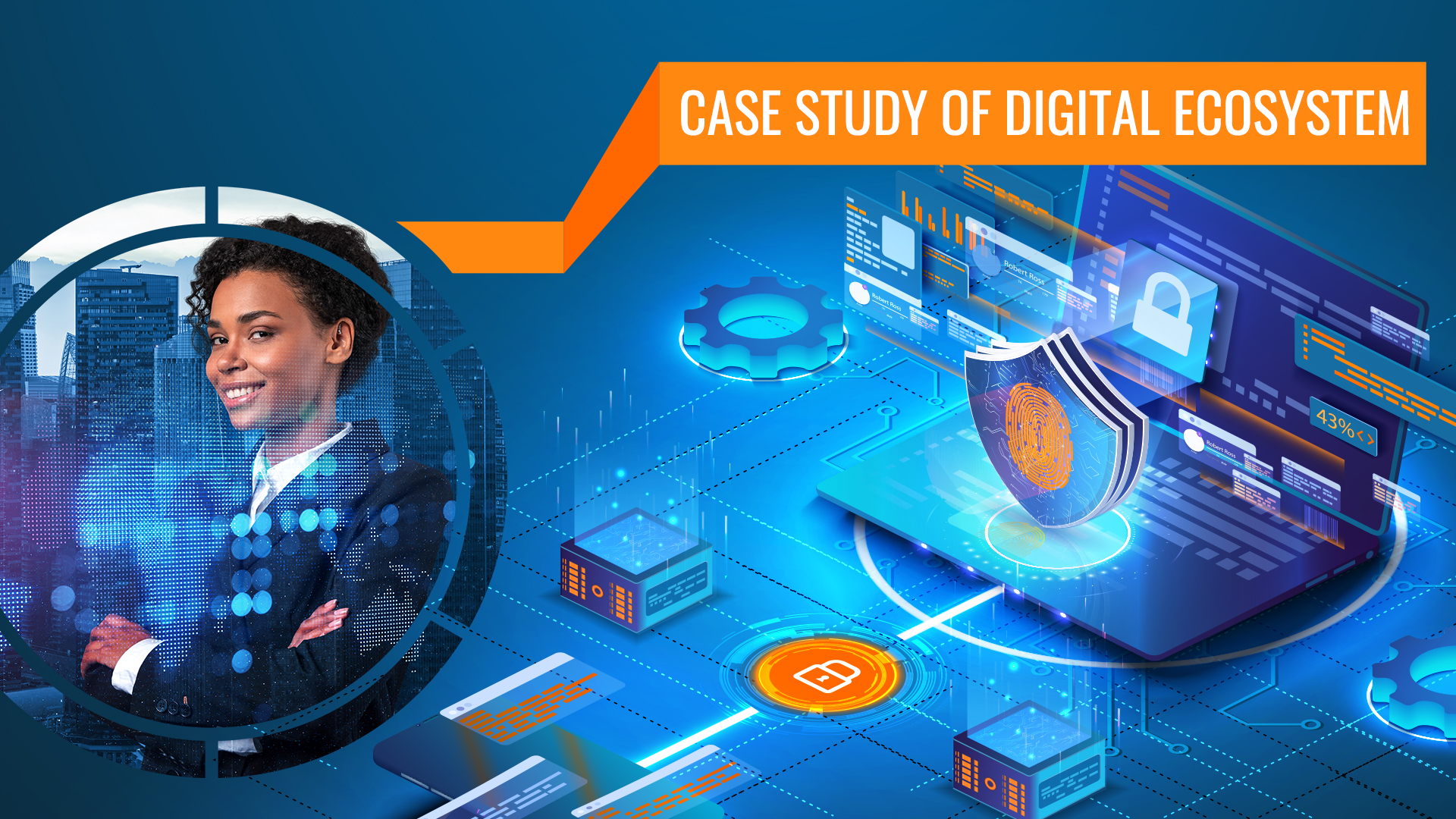 Telecom CASE STUDY: Digital Ecosystem 
One of SI's key clients, a telecom with over $1.3B annual revenue, engaged SaskTel International's suite of software solutions, including: Optius to enhance inventory and order management; Tracs for trouble management; and OpenSwitchGate for activation. 
Automation was necessary for this client to remain competitive in an increasingly on-demand industry. Prior to automation, manual data entry and time-consuming processes were common. The use of physical maps, work orders, and spreadsheets increased the likeliness of manual input errors. Along with other factors, this led the company to evaluate legacy OSS systems and proactively embrace automation. 
Through the adoption of SI's automation software, the company improved customer service and decreased the frequency of manual errors. With improved OSS and BSS environments, they recognized substantial operational efficiencies and cost savings without the need to increase staff levels. 
Automating OSS environments provided many operational benefits, especially with the client's migration to fiber-based broadband facilities. To ensure customer satisfaction, the migration was seamless and services were upgraded without disruption to services. A modern OSS environment provided the company with accurate, up-to-date visibility into its network which further improved customer service with prompt trouble resolution.
Savings in the quantity of days required to complete provisioning were also realized. Instead of taking days to complete manual processes for service provisioning, it happens in real-time. Pre-developed APIs can also be easily introduced into the system, providing agility in the marketplace and improving customer experience.
This particular telecom realized the following improvements:

Service Provisioning Improvements 
90% of service orders provisioned are completed automatically, without human interaction, with annual savings of $30.2 million. 

Overall truck rolls have reduced by 50%, resulting in a significant savings. 

96% success rate for wireline service orders without the need for manual intervention. 

e911 and PIC orders are automatically generated to meet strict timelines and regulatory requirements. 

Left-in service order activations are completed in minutes instead of hours. 
Network Asset Inventory Improvements 
Broadband assignment time is reduced 89% from three minutes to ten seconds. 

Assignments are made at the time of order compared to previous processes that took an average of three days. 

The company's improved inventory capabilities, in conjunction with Tracs trouble management system, allows quick trouble resolution. 
Business Improvements Thanks to Better Analytics 
The client can pull reports for insight into where capacity is reaching predefined limits. 

Weekly monitoring saves escalation times and allows a better customer experience by being proactive instead of reactive. 

Valuable data from external sources like municipalities and GIS systems can be imported to a data warehouse for assisting with more targeted marketing campaigns. 

Better network analytics and data help predict where facilities and infrastructure should be located and where services should be made available. 
Conclusion 
In addition to this client achieving impressive results over multiple work streams, they were also able to re-capture and redeploy their FTE count. By automating repetitive tasks, the client was able to refocus on delivering more complex products to the market, ultimately further increasing revenue. 
In early 2020 when pandemic restrictions came into swift effect and people were sent home to work with their children whose schools had also closed, the demand for increased bandwidth was immediate. A telecom that had progressed along the transformation journey through automation would have had the opportunity in this situation to realize significant profit. By providing customers the option of self-serve bandwidth upgrade services online, the provider could have thousands of customers being billed for extra bandwidth in a matter of hours, without employees being required to manually process service orders enabling these changes. Allowing "the machines to do the work" while human resources focus on optimizing the business at a higher level, results in the accumulation of passive income that flows directly to a business' bottom line.
SaskTel International was established in 1986 as a subsidiary of SaskTel, a multi-service communications service provider with over a century of successful operating experience. SaskTel International leverages the expertise, industry firsts, lessons-learned, and resources of SaskTel to market leading-edge software solutions and professional services for service providers worldwide.