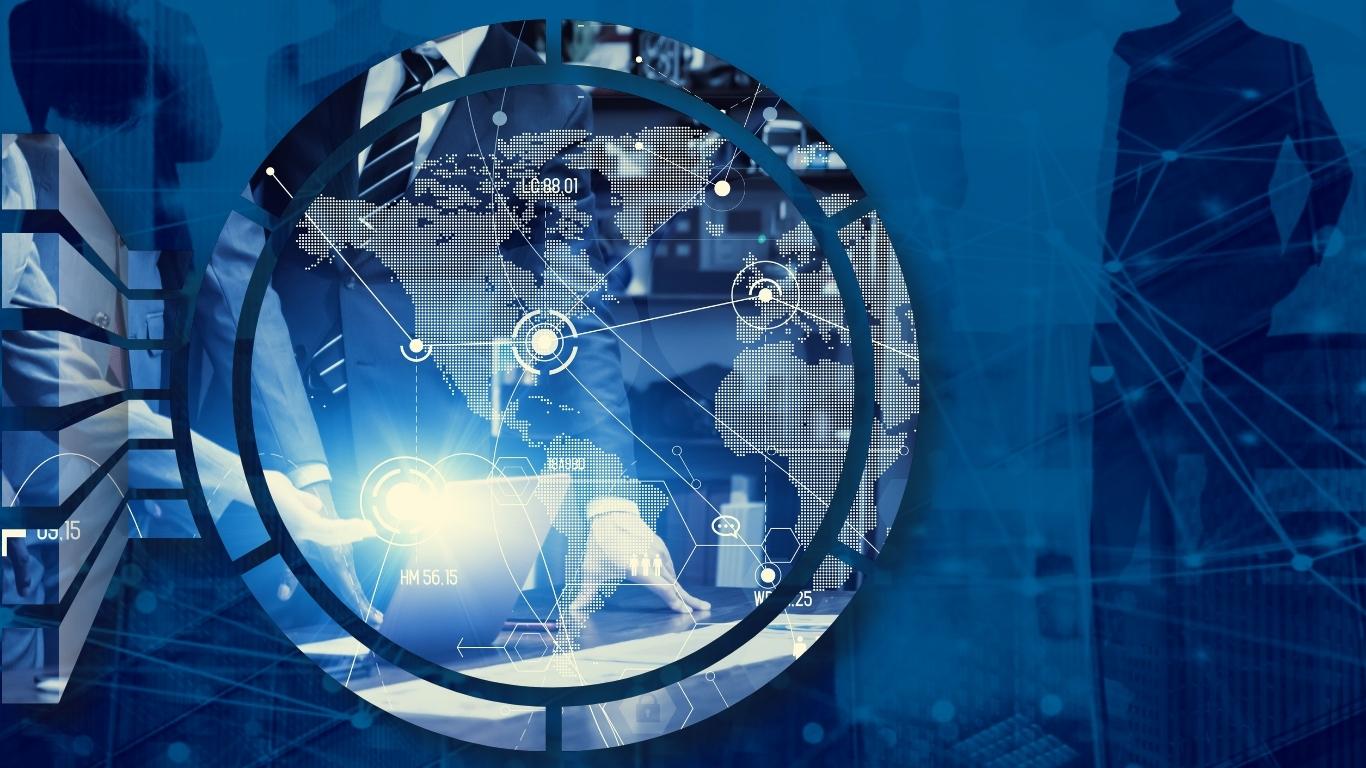 One of the many benefits of attending industry events is the opportunity to network and connect with key stakeholders in the telecom industry. It is often through these casual
conversations at an exhibitor booth, over coffee, or in discussions following a keynote presentation, that issues at the forefront of our industry are discussed.
The discussions during last year confirmed and reinforced a message that has been top of mind for SaskTel International since well before the global pandemic and seems to have become more critical since. The topic – how telecommunication providers, regulators, governments, and funding partners can establish a business model to bridge the digital divide is front and centre for many of our industry colleagues this year. Establishing a connected community has always been a mandate shared by SaskTel International and its telecommunications parent company, SaskTel. We work closely with all levels of government to enable the population of Saskatchewan, Canada to connect to their world using the most state-of-the art technologies.
Covid Accelerated Broadband Needs
The story of SaskTel's CommunityNet initiative shares how technology, funding, and political alignment were combined and navigated to ultimately achieve a successful model that continues to
operate currently and into the future.
The CommunityNet initiative launched in 2001 in Saskatchewan, Canada, was the first of its kind in the region aimed at providing province-wide network connectivity to over 250 locations. The network was specifically engineered to address the requirements of the Government, Health, and Education sectors and offered high speed broadband services to both urban and rural areas with populations over 300 people. Prior to this, high speed internet access was unavailable to most rural schools in the province and many government organizations were slow to adopt electronic service delivery.
Building the Partnership
Designing the most appropriate technology is typically the simplest part of this kind of strategy, while financial and political partnerships are the most difficult to establish and navigate through to successful completion. The model that SaskTel International has implemented includes the following steps.
Reaching alignment with partners
Finding and securing anchor tenants
Designing the network and services to satisfy tenants' needs in a way that bridges the digital divide for multiple markets.
1. Gaining Alignment Across Partners
The various partners involved (financial, government, regulators, and telecoms) shared the common objective of improving the lives of citizens. Their goals were aligned towards improving services for businesses, consumers, and the public sector through government services, community support, and other public services. Sharing a common goal also reduces duplication that can occur when separate parties build parallel networks.
2. Anchor Tenants
The next major objective was to find anchor tenants. We worked with the government to bring health, education, and other key government departments on board as the anchor tenants. The CommunityNet initiative provides a shared, advanced network which provides many benefits to these tenants. For example:
Government offices benefit from the expanded ability to undertake egovernment services and share data and resources across departments.
Health care facilities have the ability to support telemedicine services, remote diagnostics, and access specialists online, as well as ensure secure and confidential access to patient information.
Schools and post-secondary institutions are able to provide broadband access and distance education through technologyenabled learning and video conferencing for remote students.
Public libraries were enabled to extend internet access to citizens who may not have the financial ability to obtain necessary computer equipment at home.
How We Built It
The organization of executive government and public sector stakeholders as one large customer – the anchor tenant – involved several key factors.
Existing public sector expenditures were used to leverage federal and provincial funding grants, where possible.
A long-term, stable partnership between the government and SaskTel was established.
As the network operator, we were able to take a holistic approach to planning and implementing the optimal network design province-wide. This provided us with critical mass to rationalize advancing infrastructure in rural Saskatchewan.
The partnership that was formed between SaskTel, the Government of Saskatchewan, healthcare, and education continues to build on this foundation by capitalizing on economies of scale. This specific model and tenant mix is what worked for Saskatchewan, however each region is unique and varies widely in the scope, scale, and impact of various sectors.
Design network and services to tenants' needs with scalability for multiple markets
The network was architected to serve the needs of the enterprise-level anchor tenants and would further enable future network expansion into the consumer market. This scalability created future opportunities to gain upside revenue from consumer and business broadband requirements.
Social Mandate as a Telecom
CommunityNet started out as a social mandate initiative for SaskTel, with a focus on helping to improve the effectiveness of health, education, and government services through technology. In addition to these objectives being met, it also resulted in positioning SaskTel to create and extend new products and services and develop commercially viable lines of business.
We were able to leverage the broadband core to layer in a variety of new services such as:
IPTV services
Expanded wireless network for LTE services
Hosted Voice-Over-IP services
Hosted Video Conferencing Services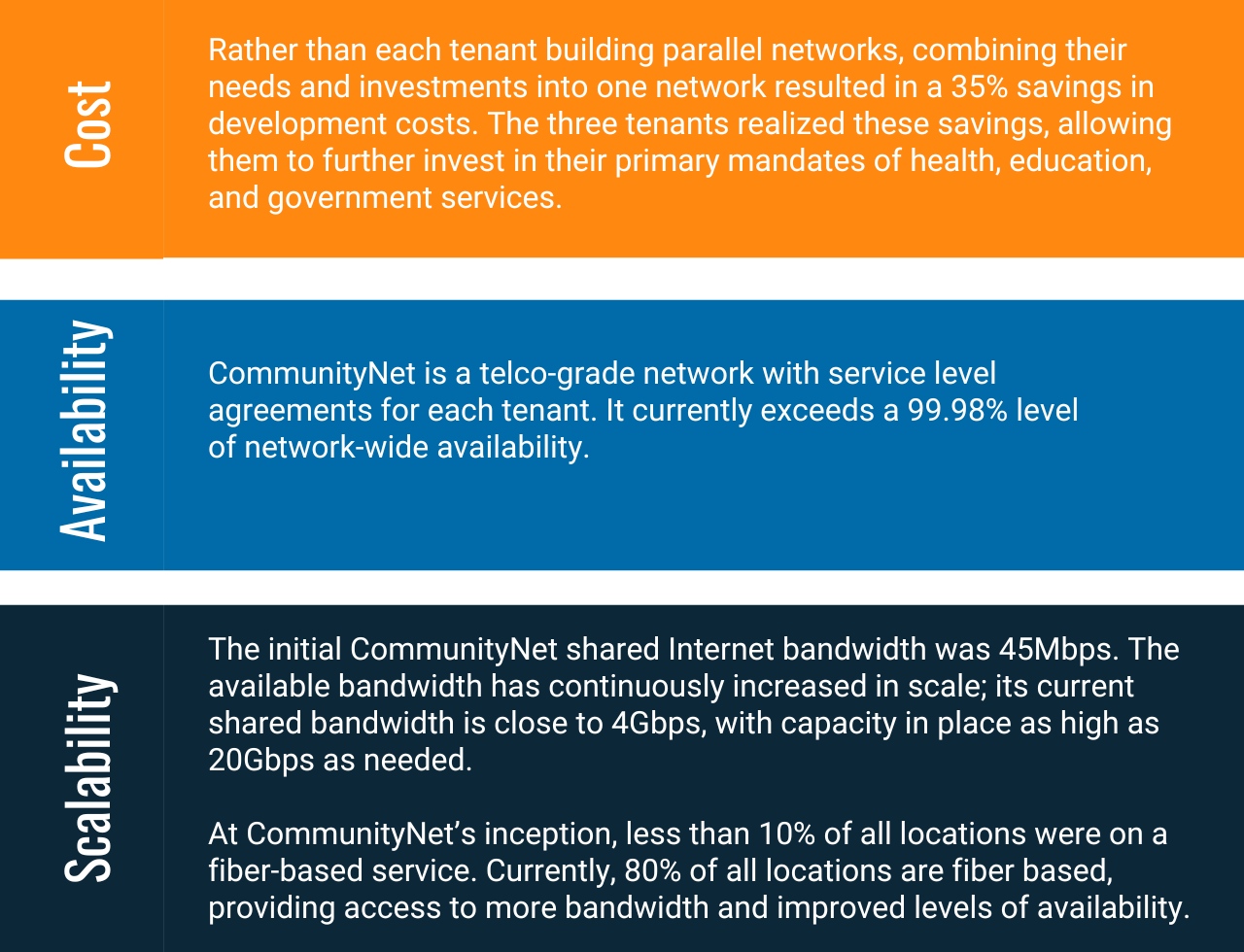 Summary
SaskTel played an instrumental role in supplying, building, and managing the communications networks for CommunityNet as a key to assisting numerous stakeholders of our province with reliability, security and ease of access to broadband.
The expertise and lessons learned from these initiatives enables us to be your experienced partner assisting the you to build a similar model to bridge the digital divide and to deliver increased connectivity.